⚡ How to regain your life in hand and become the captain? The journal is a first step! In this article, I give you every reason to hold one and content ideas to start today!
How to take back control of your life?
Keeping a journal is your first step!  In this article, I'Ll explain all the reasons why you need to dot it and I'll give you some content ideas to get start now.
The happiness in stock introduction is already published, feel free to read it (again) here. I'Ve spend so much time to write it haha, I hope it gave or it will give you the desire to rock everything to be the person you deserve to be and live the life you want.
As you may know, I'll propose you every month new challenges (small, middle, big), it's up to you to catch the wave and surf into your direction!
Enough with the jokes, let's do it:
Challenge #1: create your journal and become the captain of your life
When we say journal, we think immediately to the diary that well all keep when we were younger. Remember the fountain pen haha? Well, this is not the subject here. In this article, I am talking more about a logbook like I like to call it and why you should start one now.
Reason 1: have a guideline
If like me, you are full of ideas, goals, you're impatient and of course you want to have everything done right now… I strongly advise you to invest in a small journal that will channel and centralizes all your good vibes and intentions. It will be your logbook, that will indicate you at any moment the way you need to take when you're feeling lost or demotivated (which happen often to be honest here). It will remind you the goals you've set in order to bounce back faster.
Reason 2: to know you
It may be stupid said like this, but when you start writing down on a paper all your emotions, desires, fears, blocks, all became clearer for me after. You free yourself from all the bad things to capture positivity. You'Re becoming aware of your progress, you're learning to know you more somehow. And it's feel good!
It is a proven fact that writing your emotions decrease your level of stress and improve considerably your living conditions, so your health. So when do we start?
Reason 3: keep in mind good memories
By relating our emotions, our feelings, our impressions, our desires or our daily life, we keep track of our past. Often, those memories go out of the window in our mind. So when we go back through a beautiful anecdote, it'll automatically make you smile and you'll be happy to have kept it in your journal.
Reason 4: it's your playground…
Where you can start handwriting again (because, let's be honest, it's not happen often haha) and get your imagination and creativity running. It's your journal, it must be at your image! Pictures, printed newspapers, photo collage… the possibilities are infinite.
Now that you're convinced (or almost), what do we put in it?
Before we get start, it's good to specify that a journal is totally free and will be specific to each one. The composition of a journal will depend on your objectives.
For my part, it allows me to list lots of things that help me develop myself and for that, I thing several sections that you can choose to follow or adapt and complete;).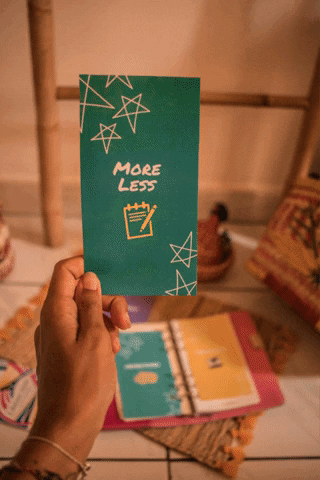 Section 1: more/less
This section will allow you to list the habits or behaviors that you want to adopt or give up. It's my personal guide that show me the way to take and the roads to abandon in order to achieve faster my point of arrival (and Yes, I do love metaphors).
Section 2: gratitude
This is a super important one and it's my favorite one! This section will help you list all the little things in life that have become invisible to our eyes but who are actually real! By spelling out in black and white all we have, we become aware that what we own is more than enough. There's no need to have more to be "happy". When you start to list your gratitude, you adopt a new vision, you see life differently, you relativise, you enjoy more and above all you refocus on the present moment. Because life, is happening now, not tomorrow.
Section 3: my objectives
Ahh, here they are, we were talking about them just here. By the way, did you list them? It's time for you to set in stone (aka your journal). What are your life goals? Who you want to be and what do you want? As soon as you write it down, you commit yourself to make it happens until death! Ok?
Section 4: my memories
I got a really bad memory, that's my number 1 default… So, it was important for me to insert this section in order to review time to time the best moments of my life. After 5 years or even 6 days, it's always good to remind yourself all the good things. It's the perfect routine that will make you smile when you're having a bad day. By the way, I'm thinking about buying a Polaroid so I can capture all that moments and insert them in my journal!  
Section 5: my successes
Same here, one of my biggest defaults that poisons me is my lack of recognition. So, everyone else is appreciating my work and me I like: Ah yes, do you think?
This girl (aka me) has 0 recognition of her work and maybe you too?
So it's important to include this particular section to your journal. It'Ll allow you to boost your self confidence and be proud of your realizations (whatever they are, personally and professionally).
Section 5: reminder!
We all have in mind some mantras and quotes which inspire us so much, that they give us all the energy and the desire to start and Rock it, right now!
Those sentences can be find in a book we love or a movie or a song. It would be sad to not make room for them in our loved journal. Isn't it?
Now that we have everything to start, what's the good time to write? This is also up to you! Some people will say everyday but personally I go with the flow of my thoughts and I write when I feel the need. In any case, I keep my journal with me, ready to be drawn when the need of writing become unsustainable haha.
End of challenge 1! You know everything.
Did I convince you? Or maybe you're keeping already a journal?
Anyway, feel free to share your feedback in comments.
Oh wait, before I forget, grab the templates that I designed and used for my own journal by subscribing to my happy newsletter below. Feel free to use them and share it on social media (and mention me, would be super nice!). Follow me on social media for more tips!
[newsletter_form button_label="Let's go!"] 
[newsletter_field name="first_name" label="Your name"] 
[newsletter_field name="email" label="Your email address"]
[/newsletter_form]
⚡ Save it for later, pin it!
When do you start? 
♥ Pssst: you liked this article? Don't hesitate to share it and press the ♡ just below! Join me on Instagram and Facebook for more tips!